As a Salesforce Admin (or in other related operational roles), I strongly believe that your goal should be there to support, educate, and empower your users to solve their own problems in the future. The reason I enjoy what I do so much is that I absolutely love learning new things, and also that I enjoy sharing what I know with other people. With that said, a long while back, I had a request I've never experienced before:

When this type of situation happens, where I don't have a ready answer, I try to step back and say to myself, "What are they asking, exactly?" What I like to do initially is to get more information, like stopping by their desk, having them come over to mine, or teleconferencing in if we are working remote from each other. The user gave me a quick call prior to sending this, and I asked them to send me a quick email so I can add it to my list of to-do's to follow up on.
Once I worked through some high priority tasks, I was able to focus my attention to this ask.  Starting off, I went Googling to familiarize myself with the issue. In our brief conversation, they explained about seeing Case Comments in the Global Search section. The first link led me to a Salesforce Ideas post, asking for this very feature: (How To) Include Case Comments in Search.
Including Salesforce Case Comments in the Global Search Results
As it turns out, this very feature was delivered in a Salesforce Release, with the comments appearing around some 7 to 10 years ago. I did another quick search, and found some release notes around the same time describing this functionality. Back in the Spring '12 release, Salesforce allowed the ability to provide a smarter global search feature. Reading more about this release, this 'smarter global search' allowed users to broaden their global search results by selecting the "Search All" link from the sidebar: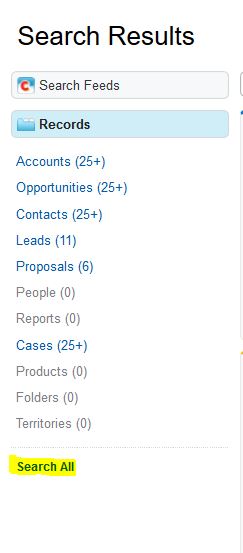 After clicking that link and expanding the results, you can see what other objects have results for your query, and can be included in the search. Even better, you can even 'pin' the other object's search field to the available globally searched records, if this is a search result a user will need access to time and time again. Start by hovering over the link, and clicking the 'pin' button:

Now it is pinned to the top of your search results! You also have the ability to Unpin if you do not want those results to be populated in the global search. Just click the pin next to the object you'd like to unpin, and select unpin: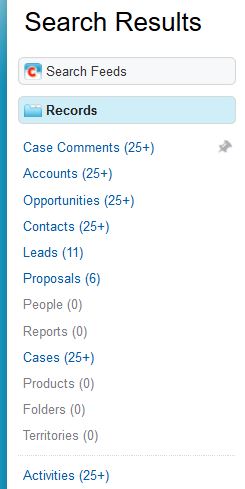 Armed with this knowledge, I reached back out to the user and asked to set up a quick 10 minute meeting. We did a screenshare, and I asked the user to show me what they meant by their request. They explained that when performing a search for a Case, they'd like to see the Case Comments in the results. They were under the impression that might not have the correct Org sharing rights to be able to view them. This could've been a different issue, but thanks to being prepared with the help of the archived Salesforce Ideas, Release Notes, and Google – I was able to walk the user through how to solve their question and find the case comments. After that, I was also able to show them that they have the ability to pin that object record search type for future reference, making their life easier! It was a great learning experience for me as well – If I ever get the same question, I have the answer ready to share!
Note: This Pinning function of Global Search does not update for all users of your Org. Each user can customize their Global Search results by pinning whatever Object Record they need access to.
Let me know your thoughts in the comments below!